Meet Linda and Ty Hatfield
The Hatfield's Story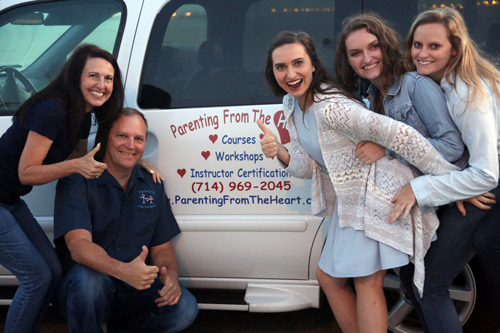 Linda and Ty have been married since 1987 and have three daughters (Kristen 30, Kari 29, and Kelly 27). When their girls were early elementary school age, they happened upon a parenting course called Redirecting Children's Behavior. Although Linda had a degree in Child Development and worked as a teacher and Ty had a career in Law Enforcement, they immediately realized they had a lot more to learn about parenting than they thought.
They enjoyed the class so much that they immediately enrolled in the training program to become Certified Parent Educators. As they began to teach the program they experienced more and more shifts in how they handled situations concerning their children. In addition, they learned a great deal from parents who attended their classes as well as professionals that they trained to become instructors. They quickly became highly sought after speakers and have addressed many PTA groups, Private Schools, Child Development Centers, YMCAs, local and national conferences. Over the years, Linda and Ty continued to search for the best in parenting practices to serve their children and their clients and went on to create their own unique program called Parenting From The Heart.
Now, as they enjoy their children as young adults and teenagers, they have a profound sense of gratitude for all they have learned. In the past, when people heard that Linda and Ty had three teenage daughters they would often say, "Oh you poor things!" Linda and Ty's surprising response is that they have a wonderful relationship with their daughters and they didn't experience any of the "typical teen" conflict that people are talking about. Linda and Ty like to say that they are not a perfect family but a highly connected family.
Today they channel this experience into their Parenting From The Heart programs to create a safe, fun and nonjudgmental atmosphere for parents to shift to higher levels of parenting. With a unique husband/wife and mom/dad perspective they come from their hearts to teach solutions that are empowering and respectful to both parents and children. After all, their mission is to help parents create the family of their dreams.
Linda Hatfield, M.A.
Linda Hatfield has worked with parents and children for over 34 years.  She has a degree in Child Development and taught elementary school for many years. She is also certified in several top parenting programs and has a Masters in Spiritual Psychology from the world renowned University of Santa Monica. She loves being a parent and experiences a connected, peaceful and loving relationship with each of her three happy, grounded and self-reliant daughters.
As a parent, Linda developed a passion for learning tools and techniques to empower her relationship with her children. She didn't resonate with the old techniques of time-outs, rewards, and bribery and learned of a program called Redirecting Children's Behavior (RCB). She became certified as an instructor in RCB, then a director who trained instructors. Linda is also a trained instructor for the Positive Discipline Program and Redirecting for a Cooperative Classroom. Teaming up with her husband, Linda became a sought after speaker for conferences, including Early Childhood Teacher's Convention, Twin's Conventions and numerous school districts. Her most popular topics include The Seven Emotional Needs of  Your Child and From Power Struggles to Authentic Cooperation.
Linda was trained as a domestic violence volunteer and enjoyed sharing her expertise with staff and clients.
Combining the best from all her experience and education, Linda created the Parenting From The Heart program that teaches parents how to transform their family relationships through communication and connection. In fact, she is known as an expert in the Parent-Child relationship. She is gifted at using her knowledge, experiences, and intuition to give personalized answers to parents regarding their unique situations with their children.  Parents comment that they feel safe and nurtured when working with her.  They say she is compassionate,  inspirational, stands as a great example and brings peace into their homes.
Linda's work has been featured in the Los Angeles Times, the Orange County Register, Women's World Magazine, Long Beach Magazine and the PBS News Hour Blog. In addition, she has studied with Dr. Reverend Michael Beckwith, featured in the acclaimed movie The Secret. Linda is on a never-ending quest to bring parents and educators the best tools, so everyone can change the world by raising emotionally intelligent, authentic children.
Ty Hatfield, B.S.
Ty is a retired Police Lieutenant for one of the largest cities in Southern California. He's been in the law enforcement field for over 40 years, including 22 years as a supervisor and experience with SWAT and narcotics. He's also been assigned to protect dignitaries including President Regan, President Clinton and several Governors. Ty's last assignment was leading the Youth Services Section and he created numerous mentoring programs for inner city children.  He was a regular speaker at schools regarding drug prevention and parenting.
However, with all this experience, nothing quite prepared him for the responsibility of being a father.
When his three daughters were young, Ty and his wife Linda (a teacher) realized there was a lot more to learn about parenting then what they knew from their professional training. They found the Redirecting Children's Behavior (RCB) course and were soon certified as instructors, trainers and then area directors. Finally they created their own unique parenting program.
Ty is a certified instructor in The Seven Habits of Highly Effective People Program, received advanced mediation training through the L.A. County Bar Association and has a California Teaching Credential. He has also been a certified hypnotherapist since 2009.  Working with clients on a deep level, has given him a unique ability to learn about the affects of parenting that create unhealthy and dis-empowering habits. Coupled with his natural ability to educate and entertain at the same time, his students quickly learn to embody new skills and get excited about making positive changes. Ty has an advanced level ranking with Toastmasters International. He has won numerous speech contests in the areas of humor, entertainment, and inspiration. He has studied with Byron Katie, Stephen Covey, and Dr. Reverend Michael Beckwith.
Ty's primary passion is to help parents reconnect to the fun in their family. He believes children are our greatest teachers. As Co-Founder of Parenting From The Heart, he readily shares his own parenting "mistakes" with poignant stories that lead to amazing transformation. Client's say his enthusiasm is contagious and he makes them feel like their child is successful right now no matter what.
Ty's awards include: Human Dignity Award from the City of Long Beach for work with the city's inner city youth, Gene Lentzner Humanitarian Award, and Operation Jump Start's Commitment to Youth award. Also, he received the OC Register's Golden Pen Award and has been featured in radio and cable shows. In his spare time, Ty focuses on his education to enhance the Parenting From The Heart program. With all these accomplishments, nothing makes him happier than his relationship with his wonderfully well-adjusted and self-reliant daughters.