Press and Endorsements
"ParentShift is aptly named. It is an encyclopedic exploration of the most effective methods for giving children the courage to realize their full potential."
ADELE FABER, author of How To Talk So Kids Will Listen & Listen So Kids Will Talk
"Linda and Ty Hatfield's heart-centered approach, presented in this book with Wendy Thomas Russell, helps parents develop the skills to move beyond punishment and rewards, sidestep power struggles, and strengthen the parent-child relationship . . . ParentShift works because it changes the way you SEE your child. It should be on every family's bookshelf."
—LAURA MARKHAM, author of Happy Parent, Peaceful Kids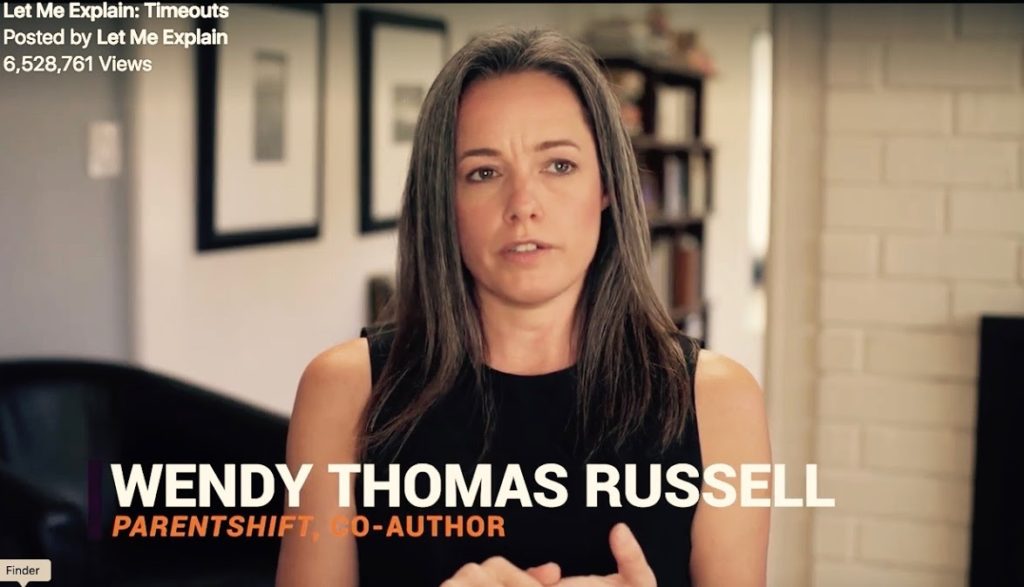 "Let me Explain: Timeouts," PBS NewsHour/Facebook — 11.15.17
Let me Explain: Timeouts
"A must-read for parents, caregivers and grandparents. The authors give practical, down- to-earth options for the everyday issues, conflicts, and roadblocks that we all experience, while helping our children become responsible, resilient, resourceful, compassionate human beings who know how to think—not just what to think."
—BARBARA COLOROSO, author of The Kids Are Worth It!
"ParentShift exposes the fake news of the necessity to discipline and control children, and replaces it with the true news that children are harmed by domination and thrive on connection, unconditional love, and respect. While quoting the work of many reputable authors and researchers of the last fifty years, the authors provide parents an incredibly powerful and clear system to shift their way of being from gut reactors to intelligent responders and from getting compliance in the moment to ensuring the child unfolds into a highly self-esteemed, self-reliant, loving, and thriving person."
—NAOMI ALDORT, author of Raising Our Children, Raising Ourselves
"If you want a deeply connected, heart-centered relationship with your child, you owe it to yourself to learn from these masters. ParentShift is one of the most comprehensive and time-tested parenting books around. If you have only one parenting book in your library, this should be the one."
—VICKIE FALCONE, author of Buddha Never Raised Kids & Jesus Didn't Drive Carpool
"The best thing about ParentShift is the enduring focus on how it's actually the adults behavior, rather than the child's, that is most predictive of healthy development. We must grow ourselves before we grow our children. Brilliant!"
—VANESSA LAPOINTE, author of Discipline Without Damage
"I'm delighted to endorse a book so thoroughly devoted to a win-win approach to parenting, one that takes the needs of both parents and children into consideration. You'll find loads of tips, charts, examples, and brief assignments along with easy-to-read text written with empathy and good humor. Here are some of the best tools available to help you build the best possible, mutually respectful, and loving, life-long relationships with your kids."
—JANE BLUESTEIN, author of The Parent's Little Book of Lists
"Parenting without punishment, threats, rewards, or bribery seemed like a fantasy until Wendy Thomas Russell enrolled in Ty and Linda Hatfield's Parenting from the Heart course, which draws from Adlerian psychology and its offshoots. In ParentShift—an upbeat, modern guide with classic roots—the coauthors give parents a loving alter- native . . . ParentShift presents a thorough set of adaptable ideas. Here, thoughtful parenting comes down to being willing to grow and change right alongside children."
—Foreword Reviews
"A beautiful manual for parents who desire positive change in the parent-child relationship. The depth and scope of this work is profound, vast, and life-changing. Not to be read only once, a resource like this provides valuable support throughout time."
—LYNETTE ANDERSON, director of Hilltop Preschool, Fountain Valley
"ParentShift is quite possibly the only parenting book you will ever need to read. It is so beautifully and clearly written that, as you read, you will better understand not only your children, but yourself. You will shift the way you know your children, deepen your compassion for yourself as you make connections with your own childhood, and become more proactive and responsive in your daily routines. The complete toolkits and the authors' tried and true resources make this book a one-stop shopping manual for heart-centered parenting."
Nevin Valentine, child development expert – college professor
"Ty and Linda Hatfield share their cutting-edge expertise in this easy-to-understand guide on raising children that grow into healthy, confident adults. As a marriage and family therapist, I rely on their methods when I work with children and teens. I recommend that every parent read this ground-breaking book."
Carissa Karner, licensed MFT  
"They say there's no how-to book for parenting . . . but this is it."
—JENNY MARDER, mother of two
ParentShift is a heartwarming guidebook to parenting and building strong family relationships.  The book was Informative, easy to read and inspiring. ParentShift provides great alternatives and common sense to parenting which is backed up through research and evidenced throughout the book with examples and humour which helped me connect to my own parenting style.
"ParentShift has many useful toolkit's which support the guidance within this book during each chapter along with helping us to grow a strong and balanced lifelong relationship with our children which is based on respect instead of bribery, punishment or false rewards."
—Emma M.  ~ Mother from England
Midwest Book Review
The Parenting Shelf
ParentShift: Ten Universal Truths That Will Change the Way You Raise Your Kids" by the team of develompent experts Linda Hatfield, Ty Hatfield, and journalist Wendy Thomas Russell, is extraordinarily instructive guidebook that offers an effective new approach to raising confident, healthy, whole human beings, from toddler to teen. Groundbreaking in both its scope and methodology, "ParentShift" challenges some of our most popular disciplinary tools (including punishments, threats, bribery, and rewards) all of which the science of child psychology has shown actually sabotage so many of the long-term goals parents have for their kids. "ParentShift" dismantles the pervasive myths that have given rise to these tactics and introduce a method designed to solve virtually any household challenge while honoring children's emotional needs, preserving the parent-child relationship and strengthening each child's self-esteem.
Critique: Exceptionally well written, organized and presented, "ParentShift" is impressively 'user friendly' for the non-specialist general reader and unreservedly recommended for personal, community, and academic library Parenting instructional reference collections. It should be noted for parents that "ParentShift" is also available in a digital book format (Kindle, $14.99).