The Live Online Parenting Course – Parenting From The Heart
Our next 8 week, live online Heart-Centered parenting course starts on June 6th, and continues on through August 15th, 2021 Sundays from 3:00 p.m. – 5:30 p.m. Pacific Standard Time.  We will be skipping June 20th, July 4th and 25th. To enroll scroll to the bottom of this page. This is not a recorded session. All teaching is done live and all of your questions answered throughout the course. If you miss a session you are allowed to attend the missed session at our next parenting course.
* SPECIAL NOTE: We have started our parenting course and we are allowing a few more to join us until further notice. You can make up any missed sessions at our next course in the fall.
We teach our live parenting course online through Zoom. You do not need to have an account to join.


Do you wonder if your parenting style is in the best interest of your child?
Do you want to learn how to deeply connect with your child and enjoy your relationship?
Then this is the parenting course for you!
Imagine hands on, life-changing, parenting skills to empower your family!
Parenting From The Heart teaches parents the skills to create a family with children who experience high self-esteem, connection, and win-win cooperation with parents, siblings and friends. Our promise…You'll reduce arguing, scolding and yelling; you will feel more positive about your parenting skills.
What do I learn in my 20 hour parenting course?
The 7 Emotional Needs of your child
What the brain research teaches us about parenting effectively
How to put yourself on PAUSE before responding to your child
How Feeling Blocker statements create friction and cause your child not to listen to you
How Feeling Acknowledgers create an opportunity for problem solving and cooperation
Simple steps to managing temper tantrums in your home
Encouraging alternatives to time-out and punishment
The secret to handling sibling conflict and creating friends for life
The secrets to preventing power struggles with your child
The secrets to getting out of power struggles with your child
Easy solutions to successfully implementing chores in your home
How to create personal boundaries, age appropriate limits and mutual agreements
Phrases to use when speaking to your child that create successful communication
How a G.E.M. can transform your relationship with your child
How to become a "responsive" parent instead of a "reactive" parent
How to authentically encourage your child
Tips on how to win-win negotiate with your child so you are both excited about the outcome
How to take care of yourself so you can take care of your child
How to create a self-calming place
When to use natural consequences
The 2 most important keys to enhancing your child's self-esteem
The 3 Parenting Styles and how to implement the style which is effective
Understand your child's behavior Below the Tip of the Iceberg
Solutions to redirect the 4 Communication Goals of a discouraged child
Creative options to saying "no" effectively to your child
Positive solutions to getting out of the revenge cycle with your child
Solutions to assist your child in becoming capable in his world
Important steps to creating Empowering Solutions to any on-going problem or challenges in your home
Hidden messages in every day conversations that create limiting beliefs
Understanding the change process when shifting your parenting style
Why is your parenting style important?
Your children decide:
Who they will choose for a spouse based on your influence and modeling
How valuable they are to themselves and to others
How courageous they will be
How free and fun they will be in the world
How much love they will give and receive
How they will handle peer pressure
If they will listen or not listen, to their own internal voice and intuition
To create healthy or unhealthy personal boundaries
Think of how much time, money and energy you spend on your education, work, and yourself?
How much time, money and energy will you spend on training for the most important job of your life?
LIFE MEMBERSHIP
♥ Once you are a graduate of our parenting course, you will have the opportunity to become a life member for $225.  As a life member you can take the course again as many times as you like while parenting your children as long as we teach our  parenting course.  You will continue to embody the information and anchor the teachings of the Parenting From The Heart Program.  As your children get older and more mature, new challenges may arise and you will have our parenting course as a resource in your family!
Purchase Online
The Course – 20 hour Parenting From The Heart course includes all materials to support you on your parenting transformation including our new book, ParentShift – Ten Universal Truths That Will Change The Way You Raise Your Kids. (One copy per family)

Investment $450 for one
Investment $700 for two (parenting the same child)
$225 for Graduate Lifetime – take the class anytime! (Does not include ParentShift)

AFTER you have completed your payment complete the ONLINE ENROLLMENT FORM.
If you have questions about pricing, course format, philosophy, click here to view our FAQ section.
TESTIMONIALS FROM GRADUATES
Almost ten years ago I took a parenting course called Parenting From The Heart with Ty and Linda Hatfield that changed my life. We weren't having any particular troubles as parents, but I was open to the idea that I could learn something. When I finished, I felt a weight had been lifted. Going on ten years later, I have a deeper, more trusting relationship with my teenage daughter than I would have ever thought possible. I'm a better father. I'm also a better husband and person. It was that good.
Charles Russell
"Taking this class was a wonderful investment in my child's future, which is in effect an investment in the future of us all."
Ish Shabazz
"It's life-changing and lets us see how our children in a light not influenced by our environment and society!"
Priya Patel
"This is a must take course for any parent. This course changed my views on parenting and has helped me grow as a mom and wife."
Stacy Drenk
"Graduates will come away with so many useful tools that will enhance your parenting and build a happy, connected family."
Carrie Calderone
"This heart centered parenting class gave me the support and tools to be the best parent and individual I can be."
Jen Nowack
As a marriage and family therapist I was incredibly impressed with the Parenting From The Heart Course.  Not only did I learn valuable, heart centered parenting skills to apply to my own life, I also have a whole new skill set to add to my toolbox for working with my clients and their families.  Highly recommend for anyone who wants to deepen their connection with their child, decrease conflict, and increase a sense of love within the family.
Carissa Karner, MFT
"I wanted to parent my kids different from the way my parents parented me and this class taught me skills that allowed me to do that."
Wendy Siu
"Parents should be required to take this course to have children. What a world we would live in if that could be the case."
Russell Cloak
"We went from dealing with our child to enjoying and growing with him."
Mansur Wadalaw

"This course truly "shifts" your ideology of parenting."
Dawn Lutz
"It is already working better. My relationship with my children is better."
Brian Lutz
"This course shed a major light on my parenting and also my other relationships (with my sister and parents). The amount of information offered seems immense at the beginning, but a valuable tool box that you can always come back to through out your life."
Salome Mashfegh-Shieh
"Wonderful tools to help you be a better person and parent and spouse."
Tommy Evans
"Thank you so much for providing all the tools for parenting from the heart!"
Valerie Bradbury
"You can only learn and benefit from this course – as a parent and just as importantly, for yourself. Triggers and projections are real!"
Asma Men
"This class is such a game changer. It will not only deepen and expand your understanding of your children, but also of yourself and your partner."
Amanda Lynn

"You'll receive so much from this class but if nothing else, having some direction is invaluable."
Josh Lynn
"Parenting From The Heart has completely changed the way we see parenting. Our kids behavior has changed for the positive."
Tom Contreras
"The best decision we've ever made to create the family of our dreams."
Bebe Contreras
"This class was a wonderful investment in my child's future, which is in effect an investment in the future of us all."
"This is your token to a more authentic valuable most importantly lovable relationship with the most important / (one of the most) person in your lifetime. Smile time dedication for a lifetime change." Jennifer Achrem
"This heart-centered parenting class gave me the support and tools to be the best parent and individual I can be. I loved all the comedy and had fun!"
"I wanted to parent my kids different from the way my parents parented me and this class taught me skills that allowed me to do that."
"This class was a wonderful investment in my child's future, which is in effect an investment in the future of us all."
"This heart-centered parenting class gave me the support and tools to be the best parent and individual I can be. I loved all the comedy and had fun!"
Click Here to Download
Parenting From The Heart 2021 ZOOM Course Flyer
Starts on June 6th!
June 6,13,27
July 11,18
August 1,8,15
(Skipping June 20, July 4, July 25)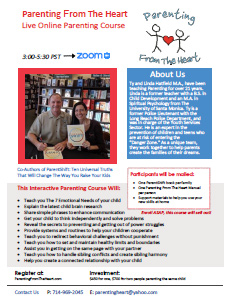 The lifelong benefits your children will gain when you live this parenting philosophy:
High self-esteem
Team player
Interdependent
Addiction free
Intrinsically motivated
Resistance to peer and societal pressure
Enjoy strong sibling bonds
What you will receive from this unique course:
A step by step Parenting From The Heart Manual
A copy of our new book ParentShift (one per couple)
Experiential group activities
Fun, informative and entertaining role-play scenarios
Personalized, heartfelt answers to your unique challenges
Extra support materials for your family
One on one attention to meet your needs
High conscious parenting solutions
Listen to what participants have to say years later!